I have invested in some technology for my clinic,with the vision that it is the way to go in the future.
I attended an international dental conference in March this year and was very inspired by the topics covered about advancements in technology.To stay on the cutting edge,we cannot be lagging behind when everyone is moving forward.
So,I made a decision that I WILL stay in the front while advancing with the new technologies and materials in dentistry.
This is my digital X-Ray system.They are a lot safer and environmental-friendly.Radiation is reduced up till 90%,compared to conventional dental X-Rays,and by going digital,I eliminate the use of toxic chemicals(developing solutions) in my clinic.They show up on my computer screen in seconds and I can enlarge the image to see the details of it.
And this is an example of a radiograph taken with my digital X-Ray system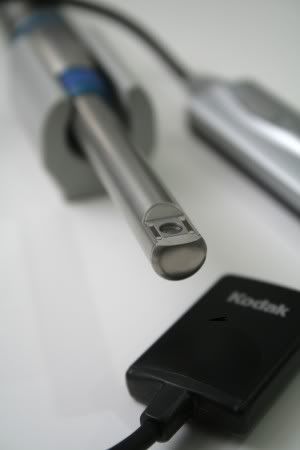 This is my intra-oral camera,which takes superb pictures of teeth magnified many times.
They are excellent diagnostic tools,apart from being a great way of educating every discerning patient who comes along.It takes very good before and after pictures too.
I believe that the society today is slowly but surely becoming aware of the need for good dental and oral health.Ignorance is no longer an excuse.It is therefore every dental practitioner's responsibility to educate the public on how to achieve high levels of dental health.And I am convinced that the knowledge and understanding that is gained will be passed on to the next generation and the next.
Having said that,I still believe that the 2 most important things any dentist who wants to make a difference should have,is competence and compassion.Competency means knowing how to do my job well,ie always striving for excellence .Being compassionate means having the commitment to care for every person who comes to me to seek dental treatment . High callings, but I believe standards,just like visions,should be set high and not just at mediocre levels.